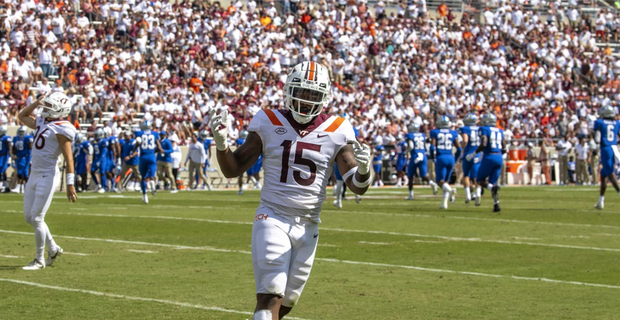 Keshon Artis could be set to play a big role for the Hokies in the first half versus Pittsburgh on Saturday.
According to starting outside linebacker Alan Tisdale, Artis has been the main candidate filling in at practice at the Mike linebacker position.
Virginia Tech Head Coach Justin Fuente previously mentioned that both versatile linebacker Keshon Artis and back-up middle linebacker Dean Ferguson could both see time at the position.
Artis, a 6-foot 240-pound Redshirt Sophomore, has served as a reserve since stepping onto campus in 2018. As a freshman the Chesapeake, Virginia native played in 11 games. As a sophomore, he played in four games before opting to redshirt to preserve eligibility. As a redshirt sophomore, Artis played in seven games, including one game wearing Beamer's No. 25.
Preserving eligibility once again due to the Coronavirus Pandemic, the Redshirt Sophomore has found himself as a key reserve at linebacker, contributing 5 total tackles (4 solo) with 2.0 tackles for loss and 1.0 sacks.
The Oscar Smith alum was regarded as the No. 522 overall prospect per the 247Sports Composite Rankings. The 2018 Recruiting Class prospect was the No. 26 inside linebacker and the No. 11 overall player from the Commonwealth of Virginia.
Dax Hollifield was ejected from the team's contest versus No. 14 Notre Dame due to Targetting. The hit occurred against the Irish running back Kyren Williams on a five-yard completion with 3:50 remaining in the fourth quarter.
Per rules and regulations, Hollfield will be forced to miss the first half of the game against Pittsburgh.
The Virginia Tech head coach was able to weigh in on the matter:
"It was so fast and a bang-bang play," began the Head Coach on the Hollifield targetting call. "I'm not sure if there's anything Dax could've done to hit the guy low, but he was going to defend the pass. It's a call in college football we're all going to have to live with."
Virginia Tech and Pittsburgh will kick-off on Saturday at 3:30 PM EST.