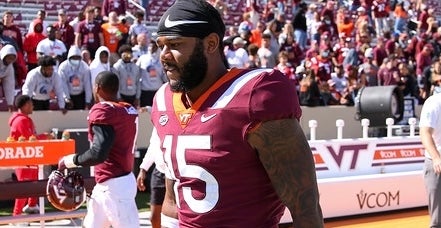 With starting inside linebacker Dax Hollifield sidelined for the first half against Pittsburgh due to a targeting penalty that occurred last week against Notre Dame, Virginia Tech redshirt sophomore Keshon Artis has recorded his first collegiate start.
A redshirt sophomore, who has been on campus for four years but retained a year of eligibility due after the COVID-19 fueled 2020 season, Artis has played in 27 career games.
Entering Saturday's contest against Pittsburgh, Artis has recorded five total tackles behind Hollifield.
The Oscar Smith alum was regarded as the No. 522 overall prospect per the 247Sports Composite Rankings. The 2018 Recruiting Class prospect was the No. 26 inside linebacker and the No. 11 overall player from the Commonwealth of Virginia.
Dax Hollifield was ejected from the team's contest versus No. 14 Notre Dame due to targeting. The hit occurred against the Irish running back Kyren Williams on a five-yard completion with 3:50 remaining in the fourth quarter.
Per rules and regulations, Hollfield will be forced to miss the first half of the game against Pittsburgh.
"It was so fast and a bang-bang play," Justin Fuente said of Dax's ejection and one-half suspension. "I'm not sure if there's anything Dax could've done to hit the guy low, but he was going to defend the pass. It's a call in college football we're all going to have to live with."